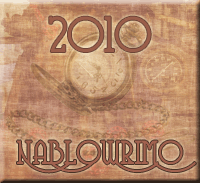 "The idea is simple: every day, for a month, you write a blog post. Any blog post. You can blog about anything you want: your hubs, your kids, that weird lady who smells the bananas in Hell-Mart...really, the possibilities are endless. The only catch is that, for the entire month of October, you write an entry every single day."
From Heather, at NaBloWriMo.
This about sums it up. Starting tomorrow, we will post a
blog every day
, and do so for the whole month of October. We are a group of bloggers who want to challenge ourselves. But as this sounds daunting, we are supporting each other.
I have been saying for months how I want to
blog more
consistently,
grow my readership
, begin
offering advertising
, and make the '
dream of being a writer
'
(one I have had for several years now)
less like a dream and more like reality.
This sounds like a
great
way to get myself in the habit of writing, meet some wonderful bloggers, and
have a little fun
!
Now,
you
may have a blog, though maybe you do not have such dreams as me, but maybe
you do want to challenge yourself
. Maybe you want to find some new bloggers. Maybe you just want to
have some fun
blogging.
If you nodded to any one of these things, then head on over to NaBloWriMo and join us in this crazy month long blogging party!
Does a post a day scare you? No worries!
Heather says:
"The whole point of NaBloWriMo is to increase your posting, but we don't exactly come out with sticks and beat you with them if you miss a day or two."
It will be
tough
. It may sometimes feel like
work
. But isn't that
true of nearly everything after a while
? Some days it is easy, some days it is not.
At least with NaBloWriMo there will be a
great bunch of bloggers who are in the same boat,
who want everyone to succeed.
There is still time to join! Go now, join up, and
let the blogging begin
!