Yup, this was the converstaion I had with my youngest after I got back from the store yesterday.
You see, we had the wonderfully aweful vertical blinds in every room of the place we have now. The ceiling fans blow the strips so they make noise, they stick so you can't open them without a fight, and well they are just plain ugly. And they let light in. A 17 year old doesn't like this fact in his bedroom.
So I went to the store, got these great curtains, on sale. Was waiting for the sale.....
They are light blocking. What the boy wanted. A normal 17 year old request, yes, but also because there is a light right outside his window that shines right in his room everynight.
Easy Peasy, hang and ready to go. Except they were WAY too long. So some alteration was needed. But then we discussed options, and he just wanted one piece of fabric going across the full window. He wouldn't be opening them - ever - and didn't need the bulk of two. Wanted a clean no fuss thing to keep the light out.
Uh, that is more than just cutting off the bottoms and hemming. Okay, I got this. I got out my trusty, somewhat discolored from a bit too long in storage, sewing machine and got to it. I acquired a roller cutting tool, by the way this is the BEST thing ever, and cut, hemmed, and sewed. Popped a tension rod up and BAM, done. He slept till noon today.
(yes, we still have to take down the brackets, one thing at a time! and yes, tension rod - these are concrete walls and a BITCH to drill holes in.)
So I had an extra curtain. And a kitchen window with the same trouble blinds.
This is not the original idea what we had for this window. But our budget is dictating our actions at the moment, and what we want will take some saving. So, BAM.
And sitting here, we just came up with an idea to make this more interesting, so I might dress this up a bit. To make it even more BAM.
I must say, I was in rare form yesterday. More than a year and a half, nothing. Then here I am sewing and shit stuff. I ROCK.
(I know, the blinds we took down are expensive custom things, but they were so old, discolored, they jammed and were difficult. Plus, the kitchen ones were too close to the faucet. You might be thinking we were crazy for ditching them, but they were a constant irritation - we are glad to see them gone. And I am trying to talk hubby out of going to get the sections to make something out of...the hoarder artist in him....) (what do you think? Improvement or no?)
I do have a bit of fabric left, and these broken terrible blinds on the door.
I have plans for these too, but hubby is not completely on board. He says these are so damn cheap just throw these away too, and yes they do not go up and down very well and the string is currently tied to the door to keep them up this way, but I think I can make them into Roman Blinds like this: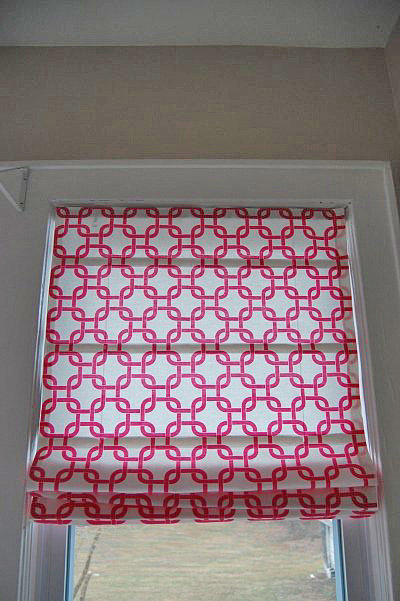 Instructions to do this can be found HERE.
I can make them the size of the window and not worry about putting them up and down. But perhaps not today. Yesterday kinda took it out of me. Need a rest day, and some football.
Next weekend, look out!