I am searching for a good playlist for my runs, which now I can call them because I run for the entire distance, well minus the warm up and warm down. I also measured the distance, and found I do run 2 miles on this path that I have been taking for the last several months, walking and running.
I need a playlist good for 3 miles now though, as I am joining the Arthritis Foundation this year for their 2012 Jingle Bell Run - my first public race. (And now I am only $35 away from my humble goal for the cause) It is a 5k, 3.1 miles. One more mile than my regular workouts.
Hubby started the search, and somehow we got lost in the 1980's. (something that happens with regularity it seems....) With great songs like Dexy's Midnight Runners (get it? runners... heehee), and The Proclaimers and 500 Miles. With a good beat, and a running theme, I think we were on to something. But when he played this song, I knew it had to be on the list AND today's Music Monday!
It's a great song to run to also - a good beat, running theme. Perfect. Hopefully, I won't get visions of garbage bag dresses, painted faces, or that wave of hair while running. I don't think I could laugh and run at the same time......PLUS there is the alien abduction risk, but I am willing to take that chance.....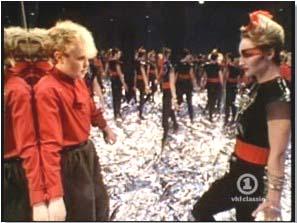 If you have any other good running song suggestions for my playlist, please let me know! I need enough for 3.1 miles. And the last mile of songs better be good because I will need all the motivation I can get for that last mile.